The H2politO Team is an educational and training project, acknowledged by the Politecnico di Torino. For this reason, to be part of the Team no particular technical competence is required, but it's really important to have:
• the time to devote to the project, the activity requires a lot of time and dedication;
• the resourcefulness to try and find solutions in an autonomous way;
• team spirit to cooperate and share setbacks and successes;
• the desire to get involved to make important decisions quickly, to solve problems and to face new challenges;
• the spirit of sacrifice.
What do you need to enter
Team H2politO offers technical and professional growth opportunities, through a gradual training program. Recruitment is done every year in September/October with the following steps:


Online application.

Written test.

Interview with the Team Managers.
Selection of students and definition of the "Training" group and their tasks.
The test is meant to give us a first idea about the knowledge acquired by the candidate up to that moment in the relative course of studies, and about the aptitude skills. It is therefore structured to be done by all students (both bachelor's and master's) who apply for participation.
Hence, it is the equivalent of an entry test: a certain specific preparation is not needed and the result, positive or negative, does not preclude/guarantee the participation to the team.

The training period is variable, in relation to: time, resourcefulness, team spirit and sacrifice, desire to get involved. Each student can get an upgrade and become an official "Member".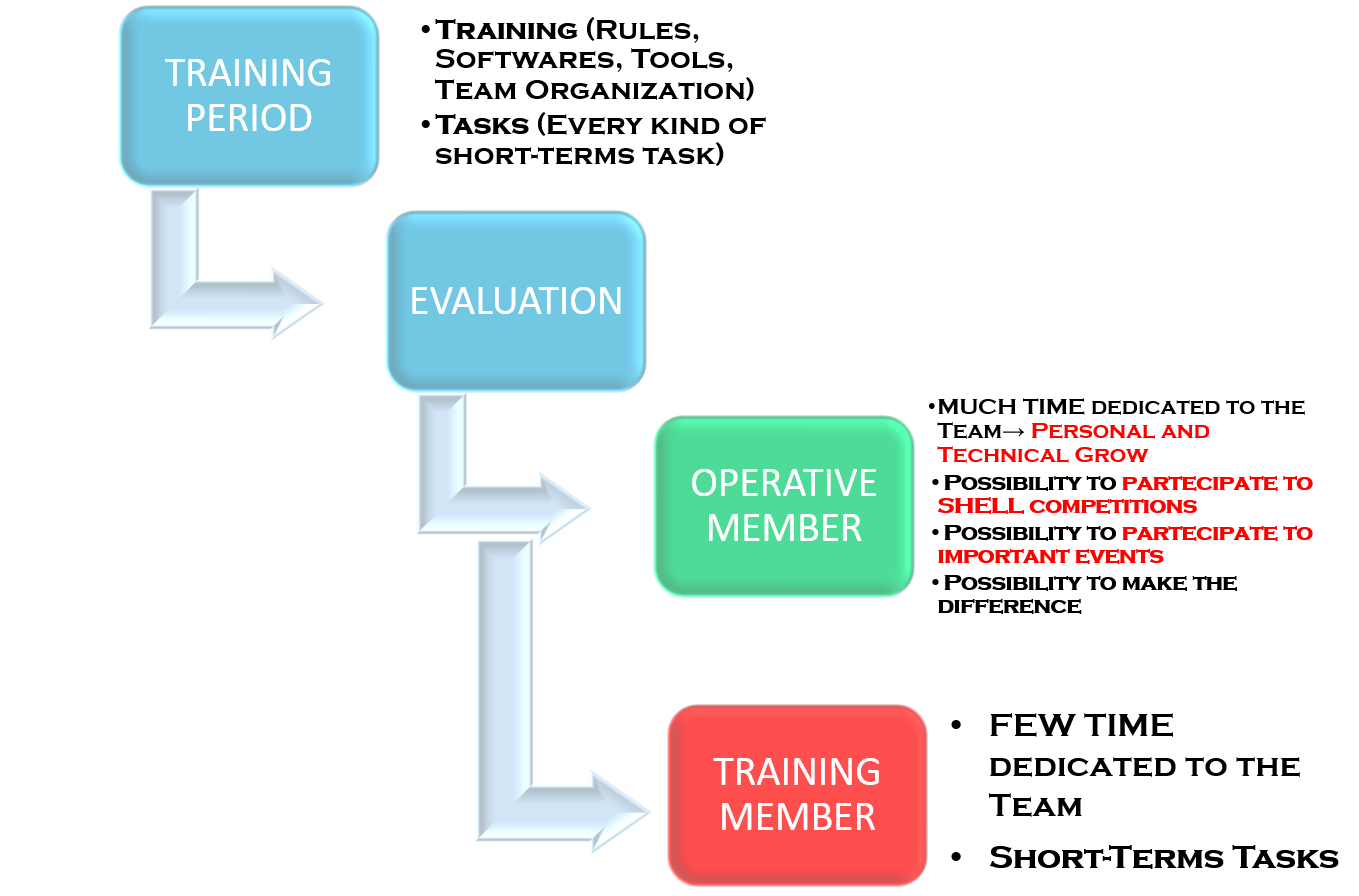 Thesis and Educational Credits
The team's activity can be recognized in terms of formative credits, thanks to the possibility to include in the annual personal study plan the "Training Activity in Student Teams" provided by the University. This acknowledgement is activated by the Faculty Advisor, which ensures the quality of the work done in the Team, in addition to the commitment, sacrifice and passion that the student dedicates to it.
In the Team the students also have the possibility to write their Thesis, Bachelor and/or Master Degree, on specific topics related to the design and the development of the vehicles.
Fill in the form
Recruitment for the 2019/2020 season has begun! Fill out the form at the link below before October 13th to have the chance to live a unique experience, from design to track.
The form (purely cognitive) will be followed by the selection phases:
- Written test (following a general introduction by the Team);
- Interview.
Only after passing both phases you could start your adventure in the Team.
All the information needed will be communicated to the email address entered in the form.
If you still have doubts or questions you can come and visit us at one of the four static exhibitions that we will organize at the Polytechnic. Check our social pages to know when they will be held.
If you have just become aware of our Team, first we suggest you to visit our website, reading carefully
About Us
and about the
Competition
 we attend with our vehicles
IDRAkronos
and
JUNO.Application form:
https://forms.gle/6XTDMxUrUC87ZQZy6