History
The idea of ​​forming a team for alternative propulsion vehicles at the Politecnico was born in 2006, but only in the autumn of 2007, under the strong ambition of a group of students and thanks to the indispensable help of eng. Giuliano Cozzari and the Faculty Advisor eng. Massimiliana Carello, turns into an operating team of 13 students, coming from 11 of the three-year degree courses. With the approval of the Rector of the Politectico, prof. Francesco Profumo and of the Head of Automotive Engineering, prof. Pietro Appendino, the project takes off.
The team was born: H2politO – molecole da corsa.
The companies involved in the project answered immediately, with a positive feedback to the students and to the initiative, showing interest and willingness to collaborate economically and technically in the study, in the development and in the implementation of the first prototype. This is how the project of the Team started, a real gym in which experimenting with new innovative teaching, in close connection with the corporate world. The H2politO Team grows over the years, builds new vehicles and is increasingly becoming a hotspot for the formation of a class of excellent engineers.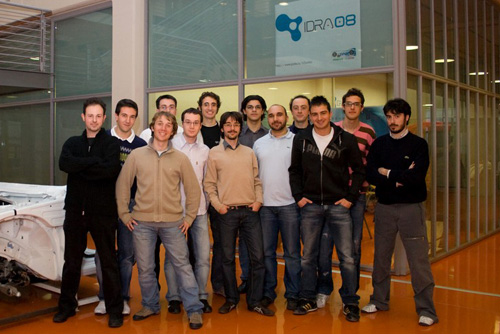 The Team gathers successes and consensus, thanks to the previous experience and the desire to excel, participating in national and international competitions, winning prestigious prizes, bringing its own example of innovative university project also in trade magazines, important television broadcasts and attending events at national and European level.
The main competition in which H2politO takes part since 2008 is the Shell Eco-Marathon. It has been held in several European cities (Nogarò, Lausitz, Rotterdam, Le Mans, London).
On 10 July 2017 the H2politO Team celebrated its 10th birthday, meaning 10 years of competitions with an event in the Aula Magna at the Politecnico and exposing all the vehicles for the occasion.